Otumfuo, Dormaahene clash could degenerate into conflict of 'unimaginable proportions' – GJA

The Ghana Journalists Association says it has observed exaggerated coverage of the simmering tension between two powerful chiefs, Asantehene, Otumfuo Osei Tutu II and Dormahene, Oseadeyo Agyeman Badu II, by some journalists.
The Association has therefore warned journalists to stop putting a sensational tilt to the issue since the tension could degenerate into a conflict of "unimaginable proportions".
"The GJA particularly wants traditional media editors and social media activists to filter any pronouncements from the two chiefs through a very tight weave of journalistic responsibility and gatekeeping," the GJA said in the statement issued in Accra on Wednesday, January 19, 2022.
The statement signed by GJA President, Affail Monney, also implored journalists to be part of the solution not part of a chieftaincy clash of "staggering magnitude."
The Dormaahene has challenged the jurisdiction of the Asantehene in portions of Dormaa after the Asantehene disclosed that there are plans to elevate chiefs in some towns in Bono East, Bono and Ahafo Regions to the status of paramount chiefs.
The Dormaahene said none of the traditional areas in the then Brong Ahafo Region falls under the jurisdiction of the Asantehene.
"No land within my traditional area belongs to the Asantehene," he had said.
The Asantehene subsequently challenged his claim, saying, "people should not make the mistake that Brong -Ahafo is not part of Asanteman. It is and I, the Asantehene represents the authority of Asanteman."
The clash between the two powerful chiefs, according to some learned commentators, captures the centuries-old feud between the Ashanti Kingdom and some chiefs in the Bono and Ahafo Regions.
Read the GJA statement below.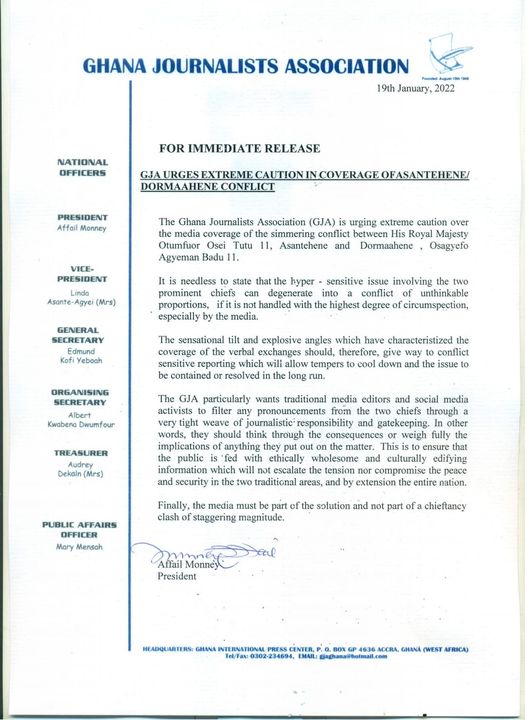 _
Source: primenewsghana.com